Why PADI Enriched Air Diver?
Maximize your time with the upgraded PADI Enriched Air Diver course. Enriched Air Diver saves you time by allowing you to:
• Stay underwater longer
• Get back into the water sooner
• Get your certification while simultaneously completing dives for other PADI courses
Plus, by diving with Enriched Air you may feel less tired on your vacation.


All you need is your open water diver certification. (You must be 15 years of age or older).

You will learn preparation and diving procedures involved with enriched air diving.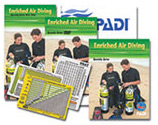 Just a mini workshop and a couple dives and you'll be on your way.
• Minimum Open Water Training: two dives over one day
Nautilus diving School 0533 862 9803